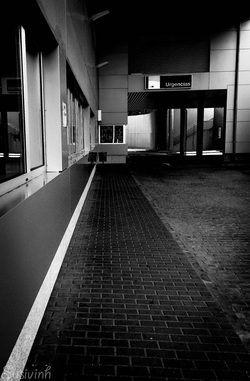 I spent an afternoon this week in the Emergency Room with a loved one (everything turned out just fine, thank goodness). As I rocked and shushed the baby and watched the seconds click by excruciatingly slowly, patients came in to and out of the bed next to ours. And while I tried to mind my business, those hospital curtains don't hide much.
Over the course of that afternoon, five patients came into that bed while we waited. The first four were all talking and calm. Their ailments ranged from a torn ACL to a sore shoulder. All four were prescribed opiates. The fifth patient was an opiate overdose.
As the editor of
Renew
, I often see stories about the opiate epidemic sweeping the country. I write about
prescription monitoring programs
, and report on
HIV outbreaks
tied to drug use. But to see how easily opiates were handed out in the ER was eye-opening. One patient said "Tylenol will be fine," but the doctor insisted on bring him Vicodin. Another said his pain was a 6 on a scale from 1 to 10, and was given powerful painkillers.
I was surprised at the ease with which the pills were dispensed, but the last patient - the opiate overdose - brought home the issue. As the young patient wretched and sobbed and begged the nurses and police officers not to call her parents, I thought of facts I researched for a writing assignment last week:
Studies have shown that the classic coupling of tylenol and Advil is more effective in treating pain than oxycodone. (NSC)
Prescription drug fatalities have quadrupled in the last 15 years, to 16,000 deaths annually (not including the many people who move from pills to heroin). (CDC)
Nearly 20% of teens have abused prescription pills. Sixty-two percent of teens who have abused pills say it is because the meds are easily available. (NIDA)
That girl (and she was a
girl
) in the ER was just one of 7,000 Americans who are treated in emergency rooms across the country for prescription drug overdoses each day. And just imagine how many prescriptions are handed out.