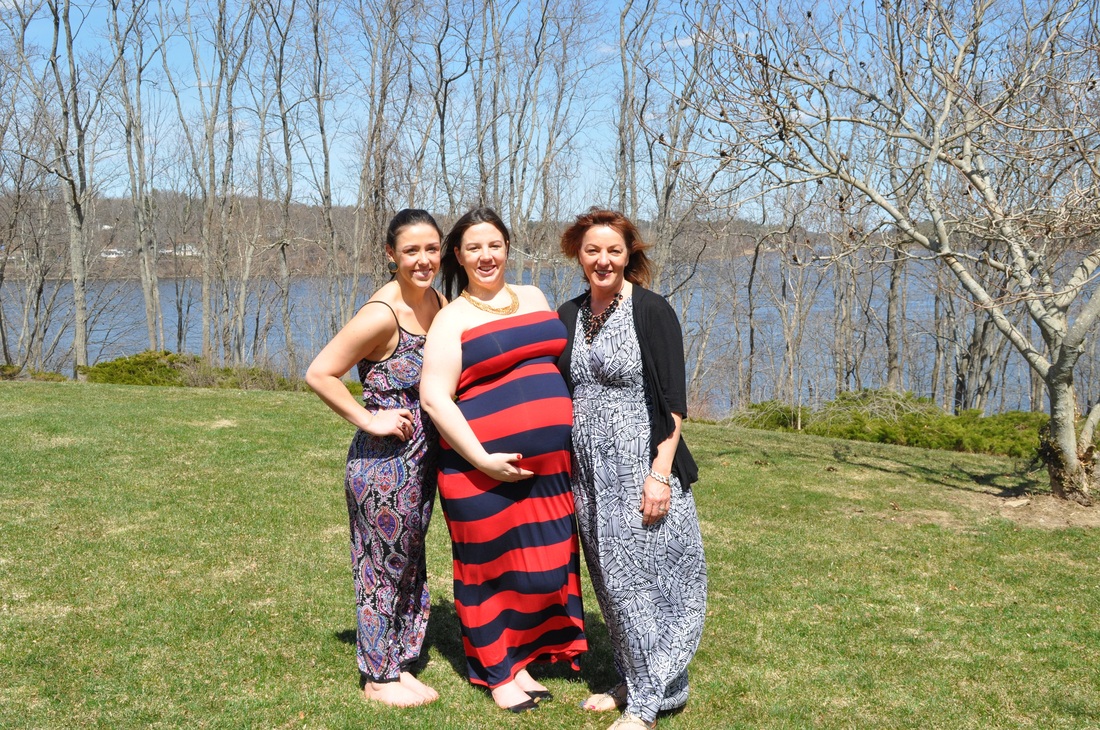 Twenty-five years ago on Mother's Day my mom brought me home from the hospital.
I was her first and she had little idea what to expect from the baby wrapped in a green blanket, but that day began her journey toward becoming an extraordinary mother.
Today, the story has come full circle, as I celebrate Mother's Day with a swollen belly, just weeks away from meeting my own firstborn daughter.
Before today, this holiday has been about looking back. Acknowledging the amazing job that my mother has done raising four children. Thinking about my grandmother, who had 12 children in 15 years and worked in the family business throughout it all. Recognizing all the strong women in my life and thanking them for the lessons they have taught me.
This year, however, I find myself looking more toward the future than the past.
There are the immediate questions: When will the baby finally arrive? Will she have my freckles, or my husband's red hair? Is the infant phase really as bad as everyone says? Then, there are the bigger questions, the ones that I will not know the answers to for years or even decades. What will my journey through motherhood look like? Twenty-five years from now, will my own daughter be proud of her mom not just on Mother's Day, but on the other 364 days of the year?
Recently, my mom and I were traveling, stuck next to each other for hours on a turbulent flight where we were unable to get up. Just after I finally drifted off to sleep a hand on my belly woke me up.
"Was she moving?" I asked.
My mom ignored my question, keeping her gaze on my bump.
"It goes by so fast, Kelly," she said. "So fast."
A cliché, but spoken with such conviction that it was impossible to ignore.
This year, Mother's Day for me is about the hopes that I have. When I'm the one looking back and thinking about how fast time has passed, what do I want to see?
I hope that I'll have taken time to be present. If life does fly by as quickly as they say, then there is no sense wishing any of it away. I'll try to remember that in the last few weeks of pregnancy, when I'm sure that I cannot take even one more minute of carrying this baby inside. I will take the time to revel in the smiles amid the sleep deprivation of the infant stage, admire my daughter's persistence during the toddler tantrums, and appreciate her growing independence during the trials of raising a teen.
I hope that I will have been kind to myself. In a world that regularly reports on the "Mommy Wars" over parenting styles, I hope that I have the confidence to make the decisions that are right for me and my family. I hope that I won't judge another parent for choosing to feed by breast or bottle, or for establishing a curfew that I don't agree with. I hope that as I make my way through motherhood, I can build up friendships and bonds with other moms, rather than tearing them down.
Most of all, I hope that in 25 years I will be surrounded by a loving family, just as I am today.
Some people write Mother's Day off as a "Hallmark Holiday" — just another reason to spend money on goods. For me, Mother's Day has always been about spending time.
Today my siblings and I will have breakfast with our mom and give her what she wants most — an hour of yard work to kick off the summer season.
It's not perfect — if I know my siblings we'll be racing each other to pick the best bagels, and dodging to get out of working the roughest spots in the yard. There will probably be some cursing, and grumbles are guaranteed. At the end of the day though, we'll all come together, probably over ice cream, to acknowledge our mother, and the strong, connected family that she has nurtured.
As I look forward today, I hope that one day I will count my daughter among my best friends, just as I do my mom. As I stand on the brink of motherhood, I'm not nervous, because I know that I have one of the best examples around. And I can't wait for this baby to meet her.
Note: This piece originally appeared in Foster's Daily Democrat