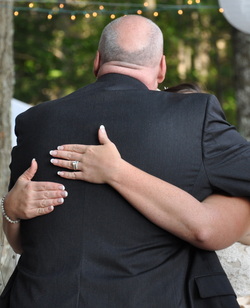 I've written
a few times
about my dad and his struggle - as well as the family's subsequent struggle - with mental illness. What I've never written about is that there truly is a silver lining to every cloud. Oftentimes people find that mental illness and creativity go hand-in-hand. It's as if having a different way of thinking gives the chance to see the world through a whole new lens.
This is certainly true with my dad - he has always been one of the most creative people I know. He really has the gift.
What he hasn't always had is the follow-through. My dad has published six childrens' books, which are fantastic (I swear I'm not that biased). They're unique, the teach lessons and they have the most beautiful illustrations, a testament to my father's amazing ability to
network with fellow artists. Although the books were fairly successful locally, I dreamed of the day that I could help make them into something more. I've scratched my head and schemed and pondered how to make this happen. I'll never forget a friend saying to me in college "It's always how it happens - the parent thinks of the great idea, and the child makes it successful." I've longed to do that for my dad.
So, we're starting. Albeit in a very small way, but it's a start. The best part is that my dad is on board with me. We're working together to edit his books and to get them "out there" as much as we can. I'm thrilled. If nothing else this will be a fantastic chance for me and my dad to work together as equals, something I've always wanted to do.
Now, this is where you come in. We've put the first book, "Taylor Rabbit and the Seeds of Wisdom," up online, and I would love for reach of you to take a minute to read it. Give us your feedback (there's a survey at the end) and share it with your friends. The illustrations are up, so my hope is that the whole family can sit and enjoy the story.
We both appreciate each and every click.
Let's see where this story takes us!