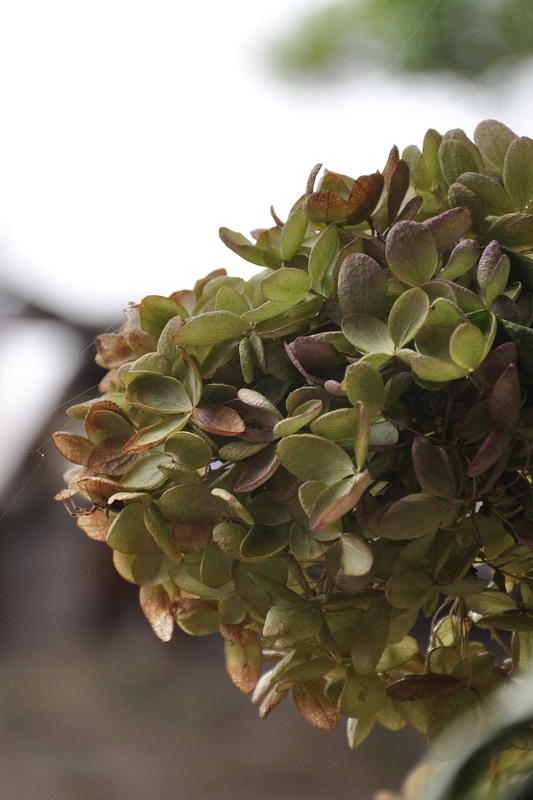 During October, NFL players are prancing around in pink in support of Breast Cancer Awareness month. Less publicized but no less important is the fact that October is also Domestic Violence Awareness month. According to the National Domestic Violence Hotline, one in four women and one in seven men experience some sort of abuse during their lifetime. Those are staggering numbers.
Yet unlike breast cancer, domestic violence isn't something that is talked about. That's why this month, the National Domestic Violence Hotline is urging people to speak up and speak out, so that others can See DV (#seeDV). By sharing stories, the organization hopes that awareness will be raised, and that change will start with conversations.
In honor of that campaign, I'd like to share just one story. A family member of mine asked me to help her write this so that she could potentially help someone else suffering from abuse.
After 18 years in a very abusive marriage, she is rebuilding her life, and hopes that by sharing her story others can avoid what she went through.
Here's her story:
Hind-sight is twenty-twenty, as the saying goes. We all have moments in our lives that we can look back on and wish we had made a different decision.
I married Dan* on July 2, 1994. Two weeks before the wedding, I stood in my mother's kitchen, and told her I was having doubts about marrying him.
"Don't wait," she told me. "Go with your gut. We can call the people we invited and tell them something came up."
I didn't listen. In my heart, I knew that my feelings were more than the usual cold feet, but in some ways I was already committed to Dan, since we were expecting a child. I convinced myself that it would be fine.
Everyone yells
, I thought.
This is marriage - you expect good times and bad
. After all, Dan was good to my three-year-old son, and took good care of his two daughters from a previous marriage. I walked down the aisle and tried not to look back.
Unfortunately, having rings on our fingers did not make our relationship any healthier. Three month after the wedding, Dan's two daughters moved in with us four days a week. Although we were suddenly caring for two more children, and expecting a baby in weeks, Dan quit his job, opting instead to work part-time for his brother's painting business when the company needed extra help. In the last month of my pregnancy, I became a Mom to two more pre-schoolers and took on the role of breadwinner, in addition to running the house without any help from Dan. I worked until the day before I gave birth.
* * *
My daughter was born on October 23. When she was born, there was no doctor in the room - only me, the nurse and my husband. It was seven minutes from the time I waked into the hospital until the time K was delivered. Why did I wait do long? It wasn't because I wanted to labor at home, or due to terrible traffic. My baby barely made it to the hospital because of what had happened the day before.
The previous day, I had been having contractions seven minutes apart. I was excited and scared - it was finally time to meet my baby. I called Dan, and he left work early to take me to the hospital. When we got to the hospital, my labor stopped. Instead of appreciating being able to rest uninterrupted for one more night, Dan was furious. He yelled at me and accused me of putting on a show for my mom. He said that she wanted me to be in labor, and since I was unable to say no, I faked the whole thing. Dan yelled the whole night - after all, he knew when someone was in labor, from his experience with his ex-wife. I was not in labor, he said.
I spent that night crying. The next day, Dan ordered me to take the kids out so that he could rest. My sister and I took the three kids pumpkin picking. I went home and quietly fixed dinner, before driving Dan's daughters home to their biological mother's house, thirty minutes away. The whole time, I was having contractions five minutes apart.
When I got home, I put my son to bed, and tried to lie down. I couldn't rest though - every five minutes I needed to go to the bathroom. When I started bleeding, Dan finally caught on that I was in labor. We went to the hospital, and the baby was born seven minutes later.
Dan went home half an hour after the delivery - he needed sleep, he said. The next morning, he called me to say that creditors had called because we were behind on bills.
"Well," I said. "You quit your job."
His reply was that
he wanted a divorce when I got home. How dare I accuse him, and blame him for our finances?
The day your baby is born should be blissful, but instead of appreciating my new daughter, I spent her first day of life worrying about how I could appease her father.
* * *
This is how our lives went on for eighteen years. I was physically, mentally, emotionally and verbally abused by Dan. My children were verbally and mentally abused, and had to live in constant fear about what might set Dan off next.
I called the police on Dan a few times, and even kicked him out of the house. However, he would come back with promises, and I would believe them. As soon as I let him in the house, it was back to the same cycle of abuse.
Finally, last summer, Dan pushed me to my breaking point, and made me realize that I needed to do something or I would die in this situation.
My daughter and I came home one afternoon and our dogs barked enthusiastically to welcome us into the house. Dan came downstairs screaming. His older daughter, J, told him to stop yelling at me.
"It's none of your business," he shot back. "This is her fault."
"No, it's not," she replied. "What are you going to do, hit me, like you hit mom?"
He did. He went after J, and hit her again and again. I tried to run out the front door with her, but he pulled the door open, and punched J in the head, sending her flying across a chair. Dan went inside, and I knew I needed to get J to safety. She was bleeding from her head and her knee. Dan came outside, screaming at us to get in the house, and trying to pull us inside.
Dan went into the house to get his shoes, so that he could leave before the police came.
"Are you happy," he asked me. "See what you did?"
The police arrived, and arrested Dan. They called the EMTs for J, who had cuts to her head and knee, and bruised ribs.
The next morning, Dan bailed himself out of jail. He called me to see if I would like to go to a show with him and talk about what I had caused.
Instead of going to a show, I went to the police station. My daughter and I got a three-week order of protection the next day. When that expired, we had it extended. Dan argued that he had not done anything to us, and that he should be allowed to live in his home. The judge was not convinced, however. He granted my daughter and I a two-year order of protection.
Even though Dan is not allowed to contact us, we don't sleep. When we do, we have nightmares. We check the car every time we get in. At shopping centers, we scan the faces before we get out. The fear never goes away.
After eighteen years, many people didn't think I would ever escape my relationship with Dan. I didn't even believe it. But now my children and I are free, and we deserve it. My daughter and I take classes and participate in support groups. We try to understand the violence that we have lived with, and to break the cycle of abuse. We have connected with family that Dan has cut us off from. It has been over a year since I last saw Dan, and I am currently in a healthy, loving relationship. Although it is difficult, my family and I know that we can get better together.