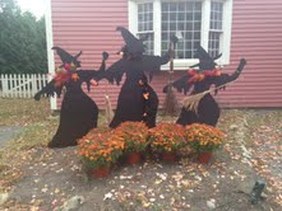 Way back in July, when I was pitched a story about the life of a real witch I was a little skeptical. Would it be all voodoo and strange sayings? At the same time, my interest was piqued.
Last week, in the lead-up to Halloween, I finally met Deborah D'Onofrio, the local witch who would be showing me the ropes. In addition to being a witch, Deborah is also a certified medium and a reiki healing master. I arrived at her (very normal looking house) to interview her, and after that the tables turned as she did a "session" with me, using her skills as a medium and a reiki healer.
I would say that I'm pretty open to believing in mediums and the like. I was excited for the session, and very curious about what would come out. I wasn't contacted by any family members what I was hoping
to hear from (looking to you, Grandpa), but the knowledge that Deb had about me and other people in my life was erie. It had me thinking a lot about the energy that surrounds us.
As you can probably tell, I enjoyed the experience, but it was personal and I wasn't able to be very articulate about it. So, my personal experience didn't make it into the newspaper story. However,
I did share lots of info about Deb and about witchcraft.
Here's an excerpt:
"
The stigma surrounding her spirituality is one reason that D'Onofrio likes to speak out about being a witch and educate those who are interested in learning more. For D'Onofrio, who is a green witch, practicing her spirituality is all mostly a matter of being in touch with nature.
"It's about being connected to the earth first and foremost," she said. "I treat the world as a sacred place. It's simple. No toads and dragons blood involved."
Her main belief is clear and succinct: "There is power in all living things. The earth, elements and creatures all have magic. They are our allies."
She also believes in a plethora of spirit guides and deities, and in the inherent power of thought.
D'Onofrio's whole practice is built around these notions. Yoga and prayer appear in her practice regularly, as does meditation.
The less mainstream details of her practice may garner a few raised eyebrows: She uses candles, minerals, herbs and other natural items to add power to her intentions, or spells. She appeals to a variety of deities and is a trained medium and Reiki master.
Just like Christianity and other major religions, witchcraft can cover a wide array of belief systems. The individual-led practice that D'Onofrio follows is different from the well-known Wiccan religion.
"It's like a tree," she said. "The roots we all share. Yet, there are different branches at the top that break into tons of traditions.""
You can read the rest of the story about Deborah here.
I'd love to hear from you. Have you had any spooky experiences this Halloween? Do you believe in the witches?